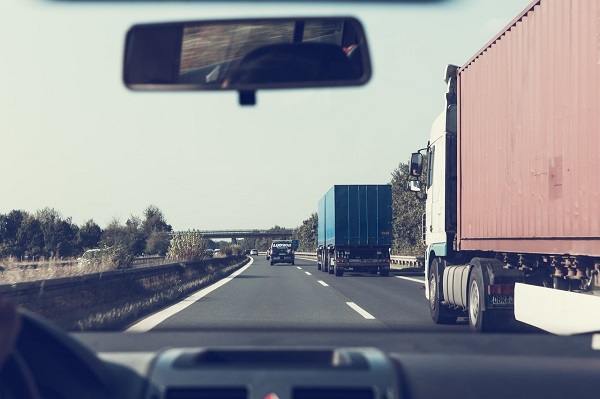 The Greatest Trucker Songs Of All Time – 15 Timeless Classics
Life on the road can sometimes get a little dull.
Music is one of the best ways to keep yourself entertained.
So crank up the volume and sing along to the…
1. On the Road Again – Willie Nelson (1980)
The song about life on tour was written after the executive producer of the film Honeysuckle Rose approached Nelson about writing the song for the film's soundtrack. It became one of Nelson's most recognizable tunes.
2. Roll on 18 wheeler – Alabama (1984)
This was the first single and title track to the band's album Roll On. It was the group's 12th straight No. 1 single on the Billboard magazine Hot Country Singles The song is a tribute to the American truck driver. Here, the story is that of a man who drives an over-the-road semitrailer truck to support his wife and three children.
3. Six Days on the Road – Dave Dudley (1963)
A song which captures the sense of boredom, danger and swaggering masculinity that often accompanies long-distance truck driving.
4. Truckin' – Grateful Dead (1970)
The song was recognized by the United States Library of Congress in 1997 as a national treasure. It molds classic Grateful Dead rhythms and instrumentation. The lyrics refer to a drug raid of the band's hotel lodgings in New Orleans during a concert tour.
5. Highway Star – Deep Purple (1972)
In 1971 when a reporter asked the band how they wrote songs, they decided to demonstrate and ended up playing the first version of Highway Star. Deep Purple continued refining it and ended up performing it live that night. It is considered one of the best driving songs.
6. Eighteen Wheels and a Dozen Roses – Kathy Mattea (1988)
The song is about a truck driver named Charlie who is retiring after thirty years to spend more time with his wife. The song mentions Charlie receiving a gold watch, a common retirement gift.
7. Big wheels in the Moonlight – Dan Seals (1988)
The song written by Seals and Bob McDill peaked at number one immediately after its release. It is about a young man's childhood memories of watching semitrailer trucks travel along a nearby highway, listening at night to the roar of the trucks' diesel engines in the distance and dreaming one day of being a truck driver.
8. Drivin' My Life Away – Eddie Rabbitt (1980)
The song is a first single from Rabbitts album Horizon. It reached number one on the Hot Country Singles in 1980, and peaked at No. 5 on the BillboardHot 100. The song, a look into the life of the roadies and the long periods of time they spend away from home, was featured on the soundtrack of the 1980 movie Roadiestarring Meat Loaf and Art Carney.
9. I'm a Truck – Red Simpson (1971)
The song — sometimes known as "Hello, I'm a Truck" — became Simpson's biggest hit single, reaching No. 4 on the Billboard Hot Country Singles chart in January 1972, and spending 17 weeks on this chart. about life on the road through the eyes of a truck. Instead of giving praise to the hard work of the truck driver (as most truck-driving songs had), the truck — whose story is told in first-person narrative — takes a cynical look at the profession.
10. Truck Drivin Man – Terry Fell (1954)
Popular country song written and recorded by Terry Fell. One of his band members, Buck Owens, recorded the song himself in 1965, omitting the fourth verse – "When I get my call up to glory, They will take me away from this land, I'll head this truck up to Heaven, 'Cause I'm a truck drivin' man."
11. 500 Miles – Bobby Bare (1963)
Also known as "500 Miles Away from Home" or "Railroaders' Lament" is a song made popular in the United States and Europe during the 1960s folk revival. The simple repetitive lyrics offer a lament by a traveller who is far from home, out of money and too ashamed to return.
12. East, Bound and Down – Jerry Reed (1977)
Song written by Jerry Reedand Dick Feller, and recorded by Reed for the soundtrack for the film Smokey and the Bandit. The song spent sixteen weeks on the U.S. country music charts, reaching a peak of #2. It also reached #3 on the Bubbling Under Hot 100.
13. I've Been Everywhere – Lucky Starr (1959)
Originally written by Geoff Mack in 1959 and made a hit by Lucky Starr. The song has been sung and recorded by many different artists – Johnny Cash, Lynn, Asleep at the Wheel and others. Original singer Lucky Starr released an EP called "Lucky's Been Everywhere", which contained four different versions: United Kingdom, United States, New Zealand, and Australia.
14. Teddy Bear – Red Sovine (1976)
The song — actually, a recitation with an instrumental backing — was one of Sovine's many recordings that saluted the American truck driver. "Teddy Bear," released during the height of the citizens' band radio craze of the mid-1970s, is titled after the song's main character, a young paraplegic boy whose semi-trailer truck-driving father had been killed in a road accident, and is left with a CB radio to keep him company.
15. Bud the spud – Stompin' Tom Connors (1969)
The song is an account of a truckerwho hauls potatoes from Prince Edward Island, Connors' home province. It was written about his truck-driving friend, Bud Roberts. Connors crisscrossed Canada, performing it along with his many other songs about Canada, at first in small venues. In this way the song became known through word-of-mouth as well as through radio airplay on CBC Radio.
Do you have any suggestions? Let us know your favorite truck driving songs below.
For more great ideas check out the following:
Why not install a subwoofer and crank up the bass?!
Are you a truck driver? Need a good dash cam for added security? Check out our ultimate guide.
Looking to get into trucking? Take a look at our post on how to get your licence.